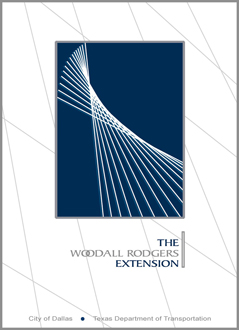 The Woodall Rodgers Extension is a City of Dallas / Texas Department of Transportation project. The proposed design is extending the Spur 366 (Woodall Rodgers) freeway westward from its current terminus at IH 35E, across the Trinity River, to the Beckley Avenue / Singleton Boulevard Intersection. The Federal Highway Administration (FHWA) has issued a Finding of No Significant Impact (FONSI) for the proposed extension of Spur 366, commonly known as the Woodall Rogers Freeway, with improvements along Industrial Boulevard and Beckley Avenue in Dallas County, Texas. Click here to see the public notice of the FONSI.
To view the current Preliminary Design Schematic (proposed design as of July 2004) for
the Woodall Rodgers Extension, click here.

As part of the planning process, an environmental study in the form of an Environmental Assessment has also been prepared to identify any effects to the social, economic, and natural environment. For more information, see the Environmental Assessment [in Adobe Acrobat® Portable Document Format (PDF)].
Contents
Chapter 1: Description of the Proposed Action
Chapter 2: Description of Existing Facility
Chapter 3: Alternatives
Chapter 4: Potential Social, economic, and Environmental Effects of the Preffered Alternative
Chapter 5: Determination of Assessment
Appendix A: Maps
Appendix B: Typical Cross Sections and Layout
Appendix C: Proposed Schematic
Appendix D: Supplemental Data
Appendix E: Agency Correspondence
Appendix F: Photographs